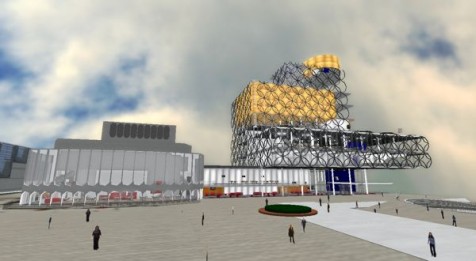 Notes:
22/7/11: I've added an update to this post at the end.
25/9/13: Daden's slideshow on the finished project added
I've got a bit of a soft spot for Birmingham.   I visited the museums when I was a kid, and particularly liked the Museum of Science and Industry.  Then I spent six years studying engineering and researching at the University during the 1980s: many happy memories there too.  But I don't think in all that time I visited the main public library; at the University we seemed to have everything we needed on campus.
Anyhow, I'm making up for it now with a visit to Birmingham's NEW library – all from the comfort of my armchair, and at six o'clock in the morning no less.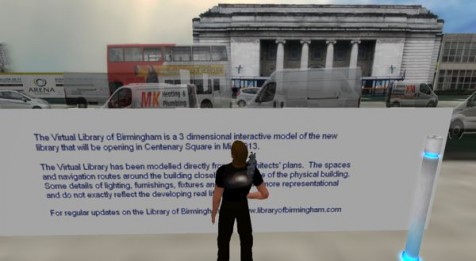 While construction of the actual building is ongoing, this virtual world simulation in Second Life has been built to help the designers test out the design and make some fine tunings based on public reaction.
Regular readers might know I'm quite sympathetic to virtual worlds, although I've often felt I'm ahead of the curve in my enthusiasm.  This simulation by virtual world consultants and builders Daden Ltd reminded me of a similar pilot the London Strategic Health Authority built in association with Dave Taylor's team at Imperial College, to test out peoples reactions to getting around a building delivering centralised medical services.  I found out about the Library project from a post on Hypergrid Business Magazine; so hats off to them.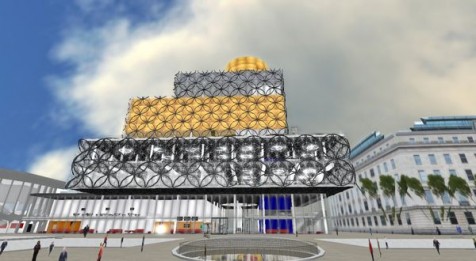 Anyhow, I think one of the points of these exercises is to judge first reactions and impressions, so this post is just my unedited walk-through, stopping now and again to take virtual photographs, with a few of my thoughts along the way.  For the avoidance of doubt, I'm the guy with the NASA 50 tee-shirt and angry ant buried in my shoulder – don't ask.   I'll remind you how to make your own visit at the end of the post.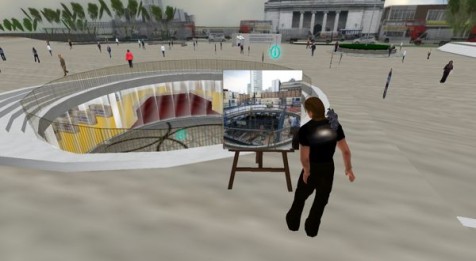 Birmingham sure has changed since I lived here.  You appear in the simulation next to an explanatory board outside the library in a large piazza.  Real photographs on easels are scattered around the simulation showing how real-life construction of that particular bit of the library is progressing.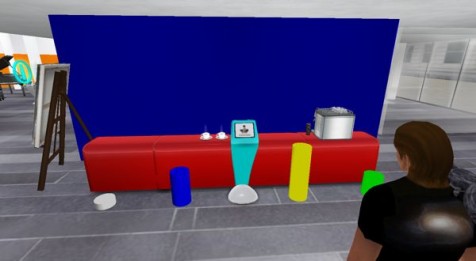 I thought I'd get cute and do what I'd do in real life, arriving at, say, the British Library in London: get my priorities right and suss out the coffee, toilets and restaurant.  The other important resource is a place to plug in my computer and recharge my phone.  And w-fi of course.  And a place to sit.  And on-line catalogues.  And books.
Anyhow, they were way ahead of me.  The first little bit of interaction that hits you is a survey of how you like to take coffee: with friends, with  a good book, place to meet up with folk etc.  There's instant feedback on the poll in the form of coloured pillars proportional in size to the response.  I could have ticked several boxes, but plumped for coffee with a good book.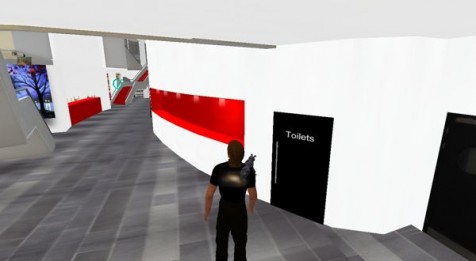 As it turned out, there are quite a lot of toilets.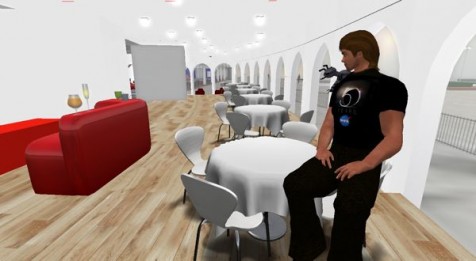 On to a cafe / restaurant area.  This all has a great feel to it by the way, with a good sense of space and scale.  On the eating front though, I wasn't clear quite what will be on offer; i.e. will there be various grades of bar, cafe, restaurant, fine-dining etc.  Maybe they don't know yet.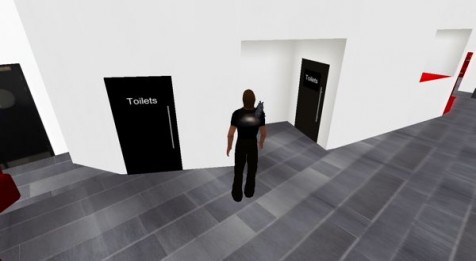 More loos.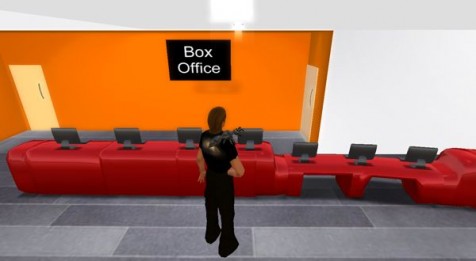 Looks like a theatre, although I didn't manage to get into the auditorium itself.  I think I'll pop back later in the day and see if any of these desks are manned by virtual people.  I did bump into one other visitor on this crack of dawn visit, but no project people.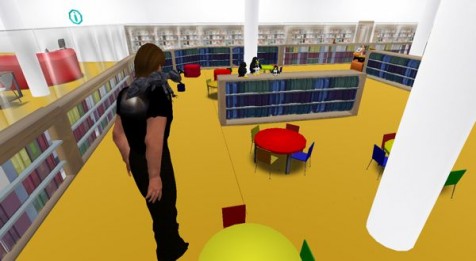 This is cute: kiddies area with kiddy-size furniture and cuddly penguins and stuff lying around.  Middle-age man with ant on shoulder hanging around.  There was also some attractive Spanish Steps-style cushioned seating in this zone; think my camera jammed on that one.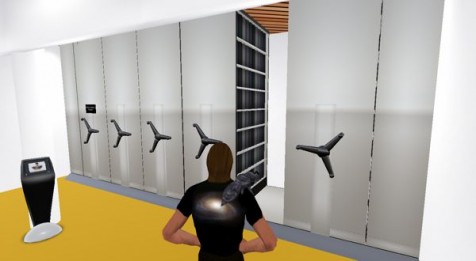 Here's a bunch of those wind-open walk-in book cabinets you find in libraries.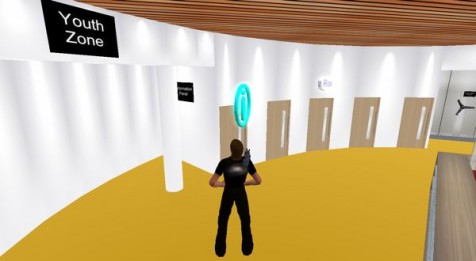 This is the Youth Zone again, with practice booths on the left.  Not sure what's being practiced  – languages maybe?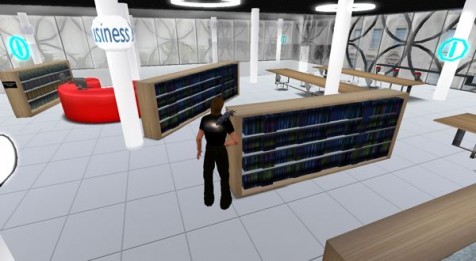 Working up the building, here's a suitably dark-tomed business area.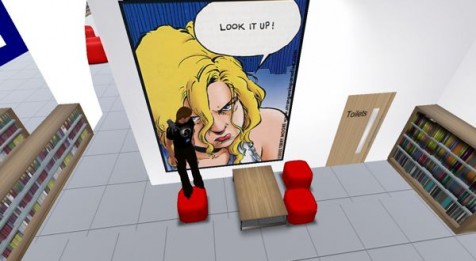 Interesting to see if this artwork makes it to real thing.  Again, this sort of thing in the simulation conveys the tone and attitude of the place.  More loos, notice.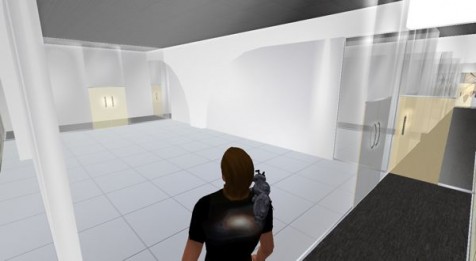 Some empty spaces still to be developed: meeting rooms maybe?   Incidentally, I like the way this simulation lets you walk through the occasional unopened door, or even wall.  Interaction adds realism, but fiddly interaction for no purpose  – like aligning yourself with a revolving door to get through it – is just irritating.   They  got the balance here right I think.
This was quite something.  Towering walls covered in books.  Guess we're in a library.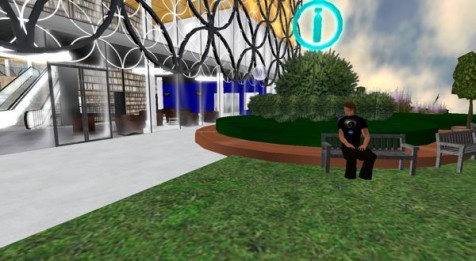 Near the top of the building is a roof garden.  Some nice views over the piazza.  Reminded me of the Royal Festival Hall on the South Bank – only better.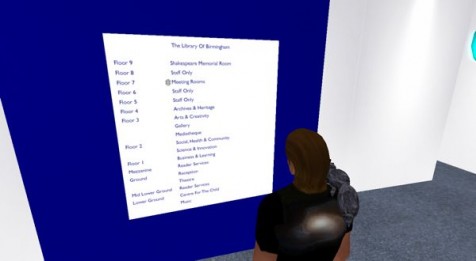 Top floors are staff only: explains why I couldn't get up there.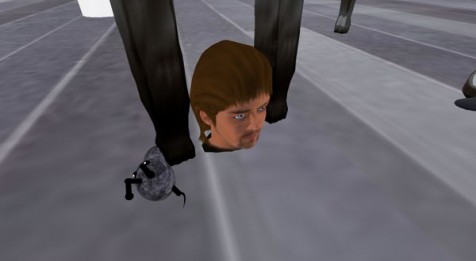 The only weird techno-hiccup I found.  Sit down to play the piano and you fall into the floor.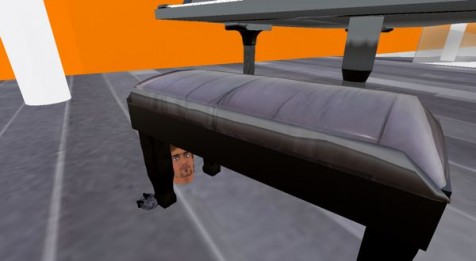 Free of the Carbonite, taking in the cultural vibe.  Looks like some Friday evening entertainment, drink in hand, can be had.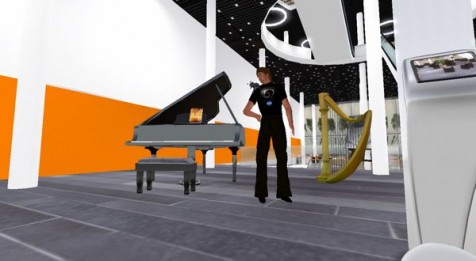 Speaking of which.  The whole consumption thing in virtual worlds is a little weird by the way; but you can imagine what this area will be like with folk milling around after work.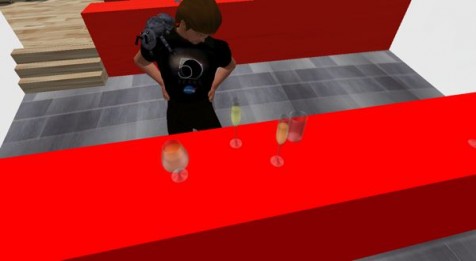 And off I go.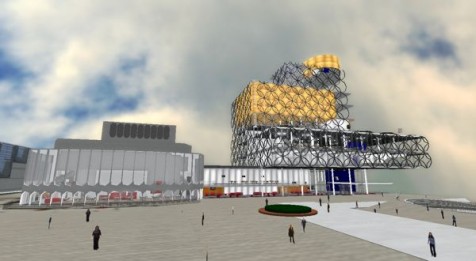 In conclusion, it's fair to say I got a pretty good overall impression of how the building is likely to feel and the facilities on offer.  If you want to know how the actual library activities will work: how to access databases and such like, that's not what this is about.
I just whisked round quickly today, but I'll go back later and leave some feedback.  The Hypergrid piece talks about various feedback mechanisms – virtual Post-Its and such like, although I can't say they jumped out at me.  I'm also guessing the library may add more interactive tools, videos and such like explaining more detail on the facilities, as time goes on.
It will also be interesting to see if the simulation is kept alive after the library-proper is built; I'm thinking simultaneous broadcasts of events from the lecture theatre for example.  Very handy for us London-dwellers.
As promised: if you want to visit, you'll need a Second Life account (free), and then teleport to the Library of Birmingham region.  You can find me in Second Life as Erasmus Magic.
Overall, looks like a great library in the making; and a friendly, intuitive job on the simulation by the library staff and Daden.
UPDATE 22/7/2011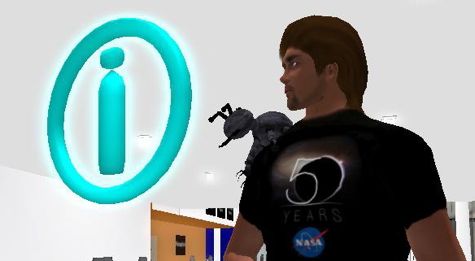 That was one fast whistle stop tour.   So fast, as Soulla Stylianou from Daden kindly pointed out, that I completely missed the Library Guide I should have picked up on the way in: a sort of Heads-Up-Display that lets you take a self-guided tour and draw on extra info from the various giant turquoise i's floating around.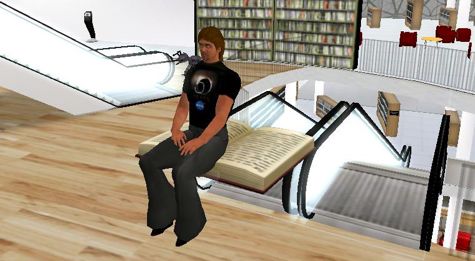 So I've just made a return visit to virtual Birmingham – suitably equipped this time – also taking in the aptly named 'Book Tour', an annotated ride taken magic carpet fashion on a giant book.  And why not?
I now know amongst other things about the close integration on the project with Birmingham Reperatory Theatre (REP) and, for example, that the practice rooms are for musical instruments, not, as previously suspected, languages.
I also found that for more background to the project, the best starting point is this briefing area, where there's also DIY training on offer for the Second Life novice.
Lastly, I checked out the interactive control and feedback tools; the simulation lets visitors:
– in 'annotated spaces', make comments in the form of smiley-ball graphics that other visitors can in turn comment on , voting an idea up (agree=green) or down (disagree=red).  Active votes range from an appeal to ensure desks are made user-friendly for disabled people, to someone who doesn't like the yellow carpet.
– with a click change the furnishings / decor / mood of an area, i.e. gallery, music, seating :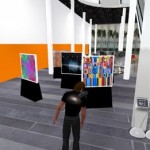 – vote on multiple choice answers to questions posed by the organisers.
Second time around, I'm still of the view simulations like this, while not perfect, bring an angle to communications – and in this case I guess a consultation – that can't be achieved any other way.  I like the comment/voting system; it will be interesting to see how many green and red smileys appear over the coming months.
Update September 2013
Slide presentation on the project by Daden on Slideshare

Of related interest on Zoonomian
Getting Real about our Virtual Future