(O Cadáver Esquisito da Ciência)
For the latest status of the project CLICK HERE
There's been such interest in the way my colleagues and I at Imperial College applied the Surrealists' Exquisite Corpse technique to science communication, that I'm inviting all of you to be part of what could be the BIGGEST SCI-ART PROJECT IN HISTORY.  The background posts are here and here, and Andrew Maynard discusses the project here at 2020science.org; read them to get up to speed. I've also attached the "Exquisite Corpse of Science' movie to the end of this post.
All you have to do is send your own picture – what you think is important about science – as an attachment to this address I've set up for the purpose
corpse(at)communicatescience(dot)com
Here is the example pro-forma you should follow that will allow me to 'join' the pictures.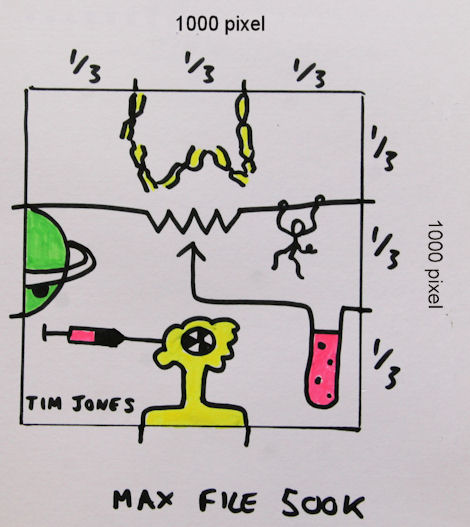 You can draw by hand and scan, or do the whole thing in Photoshop.  The image should be 1000*1000 pixels and no more than 500k compressed as a jpg.  That should give plenty of scope for detail.   Do what you like on the picture, but link at least some parts of the picture to points at thirds along the edges; if you can do that creatively (for instance the planet in the example picture) all the better.
As images come in I'll join them into the largest Exquisite Corpse ever made (I suspect), and viewable online.   Depending on the response, I also propose to build these images into a virtual wall or the sides of a building in a prime spot in the virtual world Second Life.  Imagine that – you could be part of a monument to science.
You should sign your picture like any good (or bad) artist.  If you want to attach a commentary file (mp3), please compress to 2M or less and a minute or less long.
And as a minimal formality, please copy and paste the following statement into your email:
"I consent to Tim Jones reproducing and displaying this picture (and attached audio if relevant) individually, alongside, or joined to the work of others in the Exquisite Corpse of Science Project"
Here's the movie we made, to give you a bit of inspiration maybe…..
The Exquisite Corpse of Science from Tim Jones on Vimeo.
Good luck.
Tim
For the latest status of the project CLICK HERE