Yesterday evening I spent three hours in one of the 850 theatres in 28 countries that were screening John Adams's opera Dr Atomic , live from the Metropolitan Opera in New York.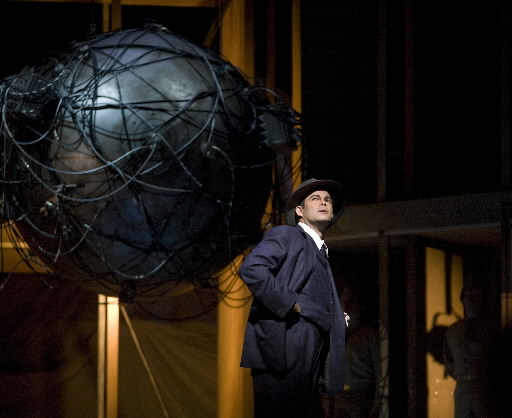 I thoroughly enjoyed this modern opera. Set around the first U.S. atomic bomb tests in 1945, Dr Atomic explores the tensions, dilemmas, and decisions that occupied the minds of J.Robert Oppenheimer, his wife, and his project Trinity associates in the weeks, hours, and seconds leading up to the world's first nuclear detonation.
Lines taken directly from declassified documents lent authenticity. As did a suitably sinister Atom Bomb, it's crude complexity resembling a lash-up from a PhD lab, but radiating a pawl of edgy doom as it hung center stage.
Memorable moments along the way included the team's sweepstake on expected explosive yield; Oppenheimer's conservative estimate of 3kT (TNT equivalent) perhaps betraying a wishful regret that would later turn into his consuming guilt. And the other scientists, reluctant to put their money where their calculations had taken them – so massive, other, and beyond intuition were the predictions.
We also saw the quintessential moral dilemma that faces most if not all scientists at some point. When to speak up, protest, do-the-right-thing; take and act on the responsibility that knowledge has both blessed and damned you with.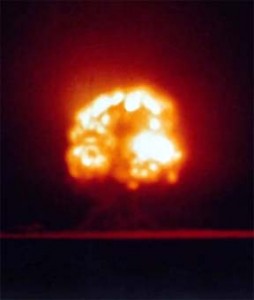 Predictably, the finale was charged with tension and poignancy. The begoggled cast stared into the audience/horizon for what seemed an eternity – as the minutes, then seconds, counted down to the detonation itself. In the final seconds, a translucent curtain descended between audience and stage with the typewritten words "give me some water" and we heard the stuttering voice of a Japanese child.